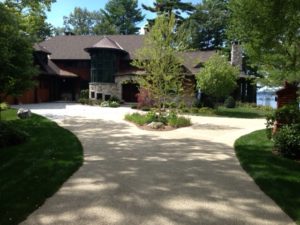 Practical and Hassle Free. The tar and chip driveway is a service we provide in which a hot liquid is sprayed on an asphalt surface and colored stone is rolled on top of the liquid.
It provides an aesthetically-pleasing addition to any asphalt surface. It has very low maintenance, seal coating is never needed, it is a very stable surface making plowing easy.
A tar and chip surface can be repaired with minimal cost. The surface can be customized by the home owner by selecting stone in various sizes and colors.