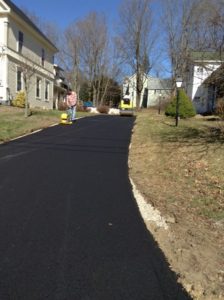 Porter Paving Handles Driveways!
We specialize in new construction and existing driveways.
Are your tired of the dirt and mud? Asphalt is your answer.
Specializing in asphalt driveways in which we prepare the driveway with gravel, and proper water drainage needed to pave.
Over laying existing driveways with asphalt is also a service provided.
Some driveways can have a layer of asphalt applied over an existing layer of asphalt. It has to be determined if the base surface is in good enough shape to bond to another layer. Paving your driveway keeps your house cleaner, enhances the value and the overall appearance of any home.