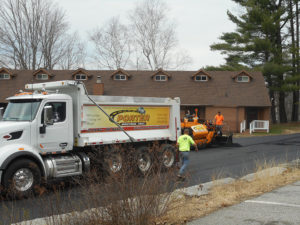 Commercial projects are changing with the fast pace paving industry. Richard owner and operator works closely with our Sales team in ensuring the proper scope of work and pricing. Our crew works efficiently to complete projects.
We offer the following commercial services:
What sets us apart from other Companies?
We are one crew, dedicated to that one project from start to finish. Richard installs every job and over sees the entire project. We pride ourselves in dedicated customer service and satisfaction. A few of our commercial projects are- Matt Brown Trucking, Aubuchon Hardware, Plymouth State College, Town of New Hampton, Town of New London, Cold Springs Resort, Aroma Joe's are naming just a few.
Our commercial paving projects continue to grow. We offer the same services offered to a home owner. We specialize in parking lots, association roadways, and a large scope of other projects. Our team works closely with developers and contractors to ensure quality installation while meeting the needs of the business owner. We always consider time-restraints and meet those time requirements in completing a job.